Baocheng Enterprise Co., Ltd.--Various types of locks, automotive locks, motorcycle locks, lock cylinders, metal parts, plastic injection parts, OEM/ODM etc.
Founded in 1989, Baocheng Enterprise Co., Ltd. (formerly Sincere Metal Enterprise Co., Ltd.) is a versatile maker with wide ranging expertise in metal and plastic-injected parts development, mold/die development, manufacturing, processing etc. The veteran company has efficiently set up a central-satellite plant system by teaming up with a group of subcontractors that specialize in different manufacturing and processing processes, offering comprehensive range of services to global customers.

Currently about 50 percent of Baocheng's revenue comes from the production of different types of locks and key cylinders, including those for automobiles, motorcycles, tool boxes, cabinetry, and many other industrial applications. While the remainder comes from global customers' OEM/ODM orders for all kinds of metal and plastic-injected parts and components that cover wide ranging industries.

Baocheng states that it specializes in manufacturing and processing parts and components of all the most popular metals, including zinc, aluminum, steel, cooper etc., as well as plastic-injected parts production. The supplier is able to accept all kinds of orders regardless of specific process thanks to its satellite plants, each of whom has its own expertise such as casting, lathing, milling, laser cutting, pressing, surface treatment, tooling, plastic injection etc.

With its backup of subcontractor network, Baocheng has supplied huge range of metal and plastic parts and components to global customers in different industries. The firm's strong competitiveness, including prompt design and development capability, rapid tooling development, comprehensive manufacturing, and capacity to fill small-batch, large-variety orders, have made it the first choice among customers seeking quality products, reasonable prices, and satisfactory services.

Baocheng has been a specialist in the local lock-making industry for over 30 years. With accumulated know-how and expertise, the company helps customers in design and develops its own key-cylinder specifications, and fills orders according to customers' requirements. Close cooperation with customers, Baocheng says, is the key factor in achieving the highest efficiency in product development and the best product quality. As a major player in the lock-making industry, Baocheng continues to be a major supplier to many famous lock brands in the global market.

The maker's quality products are widely sought-after by customers all over the world, especially in Europe, Latin America, etc.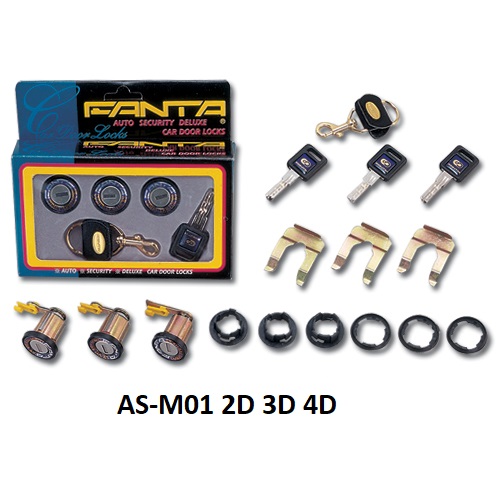 Baocheng Enterprise Co., Ltd.
No.2, Ln. 4-30, Quanzhou Rd., Houli Dist., Taichung City 421, Taiwan
Tel: +886-4-25588700
Fax: +886-4-25588701
Email: tw.baocheng@gmail.com
Website: www.fantaweb.com.tw; www.cens.com/baocheng